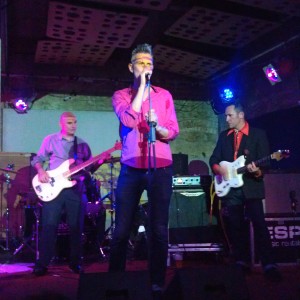 Surprisingly this gig was promoted as part of Glasgow's International Jazz Festival – presumably because of Jazzateers' name and/or because Vic Godard had agreed to provide a jazz flavoured support set (backed by various members of The Independent Group – a band that had been fronted in the early nineties by Jazzateers'/Bourgie Bourgie's other vocalist, Paul Quinn). Nonetheless Godard, better known for his post punk forays with his most well known band the Subway Sect, makes a convincing torch song singer/lounge crooner (he has produced a number of jazz influenced albums in the past). His renditions of standards such as "Stardust", "Just In Time" and "Lush Life" were nothing if not heartfelt, and in fact as his set progressed through a couple of Velvet Underground songs into "Holiday Hymn" and "Felicity", his vocals, though still engaging, became less strident. This was not an issue, as his initial backing provided by Mick Slaven on guitar, Andy Alston on Keyboards and (ex-Aztec Camera member) Campbell Owens on bass, was slowly augmented by Douglas MacIntyre on guitar, and finally (ex-Orange Juice member) James Kirk on guitar (for the last two songs). The Kirk penned "Felicity" was particularly solid – in part due to Jazzateers' drummer Colin Auld adding drums on this one song.
Godard's set (and indeed his inclusion in the event) reflected the uncompromisingly nostalgic nature of the whole evening. Both his set's chronological progression and the Postcard-related character of his backing band continued through into the Jazzateers' set. The nostalgic tone was also very evident in both the back projections of Harry Papadopolous' photos of Glasgow music scenesters from the 1980s and the between-sets' (DJ provided) 1980s' music. Given the rather 'mature' average age of the audience this made perfect sense – this was not an event geared towards attracting a new/younger following.
In keeping with the evening's sentimentality, Jazzateers' set was a performance/celebration of the songs on their Rough 46 album, initially released thirty years ago on the Rough Trade label, but re-released by Creeping Bent to coincide with this event. Douglas MacIntyre, who runs the label, aside from backing Vic Godard, also acted as a second guitar for Jazzateers. As the original bass player, Keith Band, had broken his collar bone, the aforementioned Mick Slaven (also a previous guitar player for one of the band's many line-ups) filled-in on bass guitar. This last minute substitution didn't mar the night, and the band stormed through their set with a freshness belying the age of the songs.
Grahame Skinner, the band's vocalist, pointedly marked the changes since the album's first release when, after the first couple of songs, he joked: "thirty years ago there was no such thing as vegetarianism, now we're playing in a vegan bar!". Glasgow has also seen many different musical styles develop (and sometimes flourish) amongst its local musicians over this time period and Jazzateers' music from the Rough 46 period represents a mix of styles that have had a lasting influence on the city. The album came out in 1983 and so chronologically follows on from "Felicity" and even "Holiday Hymn" (although that song wasn't released until 1985). Postcard's Alan Horne also managed Jazzateers and the Postcard sound is evident in a couple of songs (in particular "Show Me The Door" and "Once More With Feeling"). There is also the detectable influences of the earlier Velvet Underground and the garage sound of the Stooges (on "Baby That's a No No" for instance). More than this though, there is an over-arching feel to Rough 46 that preempts the soul influenced Glasgow bands of the late 1980s (and beyond). This is in no small part due to the versatility of Skinner's voice – he would later front Hipsway, a band that successfully captured the commercial possibilities of the Postcard era.