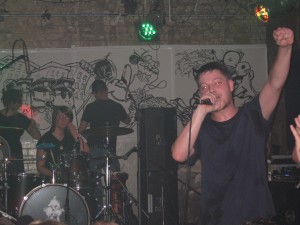 As one of the outfits at the forefront of the Scottish hip-hop scene, Hector Bizerk are well positioned to break out into wider public recognition. Tonight's gig, marking the launch of their second album, Nobody Seen Nothing, sees the band playing to a sell-out, partisan and enthusiastic crowd. Where other bands might mark the occasion with a new and unfamiliar set of songs, Hector Bizerk, through having over the last year already integrated songs from the new album into their set, ratchet up the occasion by including tried and tested numbers. They also include, as an opener, the title track from their first album, Drums, Rap, Yes, which both acts as a way for the band to state their creed and provides a slow build introduction. That is not to say that the set didn't include some new songs, and the band's MC, Louie, appears genuinely surprised when the crowd sing along on the chorus of 'Columbus', breaking off from it to ask: "How do you know that?"
Starting out as a two-piece, comprising MC Louie and drummer Audrey Tate, the band have now enlisted a bass player, Fraser Sneddon, and a keyboard player/vocalist, Jennifer Muir to their line-up. Though both new members contribute a lot to the overall sound (rhythmically and melodically) – and this is particularly true of the recordings on the new album – in a live setting Hector Bizerk play to their strengths, and it is the interplay between the acoustic drums and Louie's rapping which drives the set along. This is not hip-hop of synthesised beats, nor of scratched samples; yet it is all the more accessible for this. Louie's rhymes stand out against the lean soundscape, and the cross-rhythms between drummer and MC are also brought to the fore. The songs, rapped in Louie's Glaswegian accent, provide commentaries on various social ills and prejudices encountered in Scottish life. Of the new songs, 'Seldom a Word We Don't Say Too Often' deals with the darkside of Scottish machismo and 'Party at A & E' with the problems of Glaswegian hedonism. While avoiding being polemical, the songs still work as an indictment of their respective targets, with Louie rapping from the position of an insider, rather than looking at the subjects from the outside.
Up till now Hector Bizerk have been releasing and promoting their music independently, but it can only be a matter of time before they become too popular to continue in that mode. Here is a video of an acoustic version of Party at A & E.