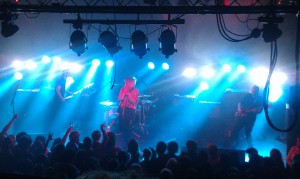 Few bands have done more to draw media attention to Glasgow's music scene in the last decade than Franz Ferdinand. This achievement is all the more significant given that only one of Franz Ferdinand is actually from Glasgow. Like the large number of visual artists who are associated with, but not from the city, Franz Ferdinand symbolise the idea of Glasgow as a cultural 'hub' – a city that draws creative types from other locations.
The band took to the stage at the QMU as a run-up to the release of their new album, Right Thoughts, Right Words, Right Action, and so was it not surprising that their set featured a large number of new songs (eight in total). Fortunately, these songs mark a return to what Franz Ferdinand do best: mixing up choppy guitar riffs with a strong danceable beat. The opening song, "Right Action', is a particularly good example of this recipe and provides an immediate sing-along chorus. The other stand-out track is 'Stand on the Horizon', and this also utilised the keyboard skills of Nick McCarthy.
This is not to say that the hits were neglected, and the crowd bounced along to 'Do You Want To', followed immediately by 'Matinée'. By the time the middle speed-up section of 'Take Me Out' came along both band and audience bounced along in unison. According to a recent article in the Observer magazine Franz Ferdinand nearly split-up after the release of their third album (Tonight) because the whole process of music making had ceased to be fun. However, going by the band's obvious enthusiasm tonight – at one point McCarthy tried to crowd surf while still playing guitar – the fun, thankfully, appears to have returned.