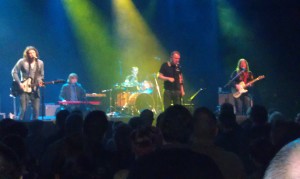 It is quite appropriate that the first post of this new blog should be about a gig by Edwyn Collins. If, in order to exist, a music scene requires figure heads, then one of Glasgow's is undeniably Edwyn Collins. Though having relocated to London in the 80s, his name (and that of Orange Juice) is now almost synonymous with Glasgow's indie music scene, and media references abound with the way in which he has influenced Glasgow bands and often (more tellingly) how his influence is eschewed by others. Of recent years though, a large amount of media focus has been given over to his recovery from a (double) brain hemorrhage in 2005.
He has performed a number of times in Glasgow since his illness – including opening the new Trongate 103 arts centre in 2009, with Teenage Fanclub as his backing band, and also at the ABC1 in 2009 with a reformed Bluebells as a support act. His involvement with Glasgow-based acts continues with Linden (featuring Joe McAlinden, previously of the BMX Bandits and Superstar), which recently released an album on Collins' AED label. Collins also produced the album, along with Seb Lewsley, and so it was no surprise then that Linden also opened for him last night. However, compared with the previous gigs, the ABC1, though busy, was not a sell-out and there was a noticeable amount of elbow room for the standing crowd. If this decline in audience attendance is due to a a certain jadedness on their part – following an initial interest in Collins' euphoric return to live performance – that would be a shame. Last night's gig (as well as his new album, Understated) marks a definite return to 'business as usual'.
Signs of Collins moving forward (in an artistic, as well as a literal sense) were laced throughout the performance. Where in the recent past he would enter the stage after the rest of his band had entered, and usually with someone to assist, he walked on last night with the band (and unassisted, except for his walking stick). Where once he kept his song introductions to the bare minimum (usually by quickly declaring the song title) there was much more description and also a willingness to enter into some banter with the audience (involving an observation about the Glasgow audience being difficult). Such banter with the audience reflects the Collins 'of old' and equally, when he lost his way singing on one song this seemed as much a part of his old- self, rather than as a result of his brain injury. More than this though – the songs from his new album are some of the strongest he has written in a long time (even including the period leading up to his injury). In addition, the band he has backing him at the moment provide some fresh insight and interest to his old songs. This is particularly the case with lead guitarist James Walbourne, who clearly wanted to 'own' some of the solos. Equally, the drummer, Liam Hutton, played with a skilled fidelity on songs like "Blueboy" and "Dying Day". In the past, both pre-2005, and post recovery, Colllins' live sets have suffered from inconsistency – in part due to his own idiosyncrasies (which have also been his strengths), but also because of the variety in musicianship surrounding him. The great Orange Juice rhythm section of McLymont and Manyika, and later bass players Dennis Bovell and Clare Kenny, were not always matched by subsequent rhythm sections. Also more recently, Collins' live performance has also suffered because he has lost the ability to play rhythm guitar and this has impacted on his overall live sound. However, last night's guitar dominated line-up of Walbourne (on lead) and Hackett (on rhythm) reminded me of Collins post-Orange Juice – when his main foil on lead guitar, to his rhythm, was Stephen Skinner. Business as usual indeed.