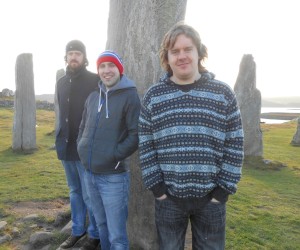 Though hailing from Lewis (and now based there) Willie Campbell has had a long association with Glasgow-based bands: being a member first of Kite Monster and then of Astrid and The Reindeer Section. A new (and as yet unreleased) song of his recently came to the attention of Strength in Numbers, providing an impetus to muse on why music, and more specifically certain songs, matter. David Hesmondhalgh examines this very topic in his new book called (funnily enough) Why Music Matters, and amongst the many other reasons for valuing music he draws attention to the ways in which it can enrich our lives on an individual level through encouraging us to reflect and develop self-awareness. Additionally, Hesmondhalgh argues that music can also 'heighten people's awareness of continuity and development in life'. Music allows us to remember how we felt at certain times and this strong link with memory can evoke feeling's of loss as well as continuity.
All these notions of why music is important is brought to mind when I think about Willie Campbell's songs, but for me the link with memory is particularly relevant as a favourite song of mine from 2000 is 'Modes of Transport' performed by Astrid:

The song is exuberant and on the surface simplistic. It is a plea directed at the object of Campbell's affection, who the listener can surmise is separated from him by distance. According to the lyrics this distance is no object and that (if the other person wants it to be so) the two of them can be together. The chorus is immensely catchy but the verse is where the hook is, taking the vocal pitch up before it descends into the chorus. It is an affirmation of life and its endless possibilities, and yet the third verse points to a certain desperation and a darker realisation that they may not be together. The song fades out, and so for the listener there is no resolution.
Campbell's new song, 'Winter Late in Spring' provides a stark contrast to the youthful optimism of 'Modes of Transport'.

Here, his vocal is also sung in first person but this time in character (someone called John Mackenzie). As with the older song the underlying theme is of a journey – both in terms of the character's narrative unfolding as he takes a car journey, and also in respect to his journey through life. However, past exuberances, if there have been any, are long forgotten as the song's narrative spells out a litany of regrets. Campbell's character has won and then lost the object of his affection but, in a twist to the song's central metaphor, it describes how when he does bump into her years later she is still able to turn his 'winter into spring'. Very much darker in tone than 'Modes of Transport' the new song offers only a little light to this darkness, through referring to the fact that the character has suffered some redemption.
Both songs, though different in tone and content, provide for reflection on what Hesmondhalgh describes as 'continuity and development of life'. The object of one's desire is not always won, no matter the extent to which it is sought after, and even if one's desires are fulfilled the eventual outcome may not be what was initially conceived. All part and parcel of why music matters.
Willie Campbell performs as part of 'Between Islands', alongside Kris Drever and Arthur Nicolson, at Stromness Town Hall, Orkney on Friday 17 July and at Mareel, Shetland on Saturday 18 July.