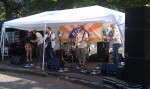 Now in its second year, this event (organised between the An Clachan Café and Mecca Holding Company) is a fantastic contribution to the West End Festival's musical calendar. Making use of the sunken concrete circle at the southern tip of Kelvingrove Park – where a tarpaulin covered stage flanked by a small PA had been set-up – a number of local (and not so local) bands performed a series of short sets over the space of five hours. These included The O's, The Well Green, Monica Queen and Thrum, The Starry Skies and Disco Shark.
Last year's event was only marred by some wet weather, but that was fortunately not the case on Sunday, when the sun shone uninterrupted from start to finish. The audience continued to grow throughout the day and by the time the last band took to the stage even the centre of the concrete circle, earlier mainly the domain of little kids, had filled to capacity. With the sun beaming down Disco Shark performed a set of disco standards that uncannily matched the warm weather. The band, which appeared to be put together specifically for this event, comprised of an extensive line-up, including a brass section and four vocalists. It also featured Stevie Jackson on guitar (and lead vocal on a breathy "More More More") and, for the first couple of numbers, Douglas Stewart on vocals . In attempting to capture the originals' dance grooves Disco Shark did a great job of staying faithful to each song's sound and arrangement. They even brought out a synth drum for their version of Kelly Marie's "Feels Like I'm In Love" and, for all we know, Giorgio Moroder could have been somewhere hidden in the line-up when they played "I Feel Love".
Warren, who had played earlier with his own band, The Starry Skies, also joined the final band for a version of The Rolling Stones" "Miss You". As the principal organiser for the event he has to be commended – for putting in a lot of work for what is a free gig. The promotional blurb from the Festival's brochure states that the 'purpose of the event is to promote music and performance in places not usually used for such activities'. In this sense 'Live at the Kelvingrove Bowl' resonates with a number of other music events in Glasgow, harking back to the use of club nights (and the park's original bandstand) in the 1980s, and the use of art spaces and church halls in the 1990s. Moreover, given its non-monetary nature, this type of mini-festival also adds to the feeling of community (both local and musical), which will hopefully spark further creativity in the future.