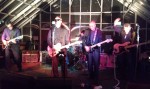 James King and The Lonewolves return from a long absence with both a new single/EP and a live set at Queen's Park Glasshouse. Aside from some brief appearances in the recent past, including a short set at Mono in January 2012 (with The Primevals' rhythm section subbing for them), this performance at the Glasshouse, as part of the The Southside Festival, is their first full set since 1985. Their line-up includes two original Lonewolves (Jake McKechan and Nick Clark), Joe Sullivan (who played guitar in king's follow-up band Fun Patrol) and a young drummer, Corey Little.
Having seen the band perform many times in their hey-day, strengthinnumbers relished what was going to be the launch of the band's new single. At their peak, James King and The Lonewolves were compelling live – they played with an urgency and a drive matched by few other acts. King's voice was (and still is) an archetypal bluesy cross between a croon and a drawl. Their greatest strength was their songs, which convincingly tread a line between oppositional themes of tenderness/self-reflection and the harsh realities of life. Often cited by the music press as being in some way both similar and also in opposition to Orange juice, The Lonewolves never quite 'nailed' the successful record deal. Both bands successfully melded different styles of American music: Orange Juice mixing The Velvet Underground with soul and The Lonewolves mixing the Velvets with 'hard' country. Like OJ's Edwyn Collins, when it comes to lyric writing, James King also wears his heart on his sleeve, and comparisons could be drawn between the sentiments of some of the early Orange Juice songs and those of The Lonewolves. Where the two bands differed was in tone and delivery. The Lonewolves eschewed any sense of self-deprecation or affableness – two qualities very much present in Orange Juice's live performances. Instead, James King and The Lonewolves imbued themselves with a 'hard man' persona. The juxtaposition of the 'hard man' and, at times, very tender lyrics worked very successfully, but what also worked equally successfully was the attendant stories of drink, drugs and violence which accompanied the band's live performances. Whether or not this was a factor in their eventual lack of ability to secure a wider audience is a moot point, but what is more relevant is that the Glasgow music scene would be lessened without their presence and the almost mythical status they achieved locally.
So how has the intervening years affected their performance? Not too badly, all in all. James King's voice has not diminished with age and their set consisted of a good mixture of their best songs from the past. "I'll Fly Away", "Step Away" "Fun Patrol" and "Happy Home" stood out in particular. The new song, "Pretty Blue Eyes" takes lead on the new CD single, and sat well with the old material. Given that this was their first proper set with a new (or reconvened) line-up, unsurprisingly it wasn't as ruthlessly polished as their sets in the 1980s once were. However, regular gigging could easily change this and, going by the crowd reaction on Friday night, this rustiness didn't detract from anyone's enjoyment. Certainly there were a lot of familiar faces in the audience (including many luminaries from Glasgow's music scene – past and present); but it wasn't just the band's generation who were present – in amongst them there were a lot of younger faces. Hopefully, this time round, James King and The Lonewolves' music will reach the audience it deserves.