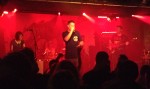 OK, Stanley Odd are an Edinburgh-based band, but this gig, as part of Glasgow's West End Festival, represented something of a show case for Scottish Hip Hop acts positioned to break through into receiving wider national recognition. That said, the first band on stage was the four piece Girobabies, who, by their own admission don't follow the normal conventions of Hip Hop: "I'm not sure what we are" explained vocalist Mark McG, as he promoted an up-coming gig for more typical local rap artists. At times Girobabies' music could best be described as 'new punk', which doesn't necessarily fit neatly with the acts which followed. However, Mark McG does break into rap within the band's brand of guitar-based songs, and following the magnificent "Overheard in the Westend' (a rage against the affectations and pretentiousness of Westend living) he choreographed what appeared to be an impromptu 'rap off', inviting a number of rappers from the audience up on stage and MCing the whole thing around "F**k This S**t: The Daily Mail". In fact so involved were they in 'bigging-up' the other rappers that Girobabies had to cut-off the end of their set.
Glasgow's Hector Bizerk were initially a two-piece, consisting of MC Louie Deadlife and drummer Audrey Tait. Since releasing their album Drums. Rap. Yes. at the beginning of the year, they have added a bass guitarist and a keyboard player/percussionist to their live set. On record Audrey Tait's drumming is both inventive and driving, without ever detracting from the rhymes, but in a live situation and particularly being able to play off a live bass player, she is a powerhouse – her playing acting as an anchor to Louie's commentaries. Lyrically, Hector Bizerk eschew all the usual cliches associated with US rap (mysogyny, et al) and instead proffer rhymes, delivered in a local accent and grounded in realism, that reflect and satirise everyday issues encountered in the West of Scotland. A new song, "Party at the A & E, targets, but with a strong self-awareness, Glasgwegians' efforts at attaining a good night out and its resultant negative consequences ("a good night out comes at a price"). In many respects then, although they sound quite different, Hector Bizerk and Girobabies share a similar aesthetic approach informed by both DIY punk and a social awareness.
There are also comparisons to be drawn between Stanley Odd and the other two bands. Admittedly the Edinburgh band provide a much more slick Hip Hop sound and a lot of their songs follow the more commercial convention of having a sung chorus (provided by Veronika Elektronica) interspersing the rhymes of MC Dave 'Solareye' Hook. However, their songs also display an acute political consciousness, and Hook also rhymes in a Scottish accent. For instance the problems of political apathy are targeted in " Antiheroics'; while "Get Outta My Head Space" constitutes a diatribe against modern day mundanity. If however, Stanley Odd represent the most fully formed vision yet of Scottish (or even UK) Hip Hop, particularly on their new album Reject, it is the more stripped back and syncopated rhymes of Hector Bizerk which are the more compelling live.