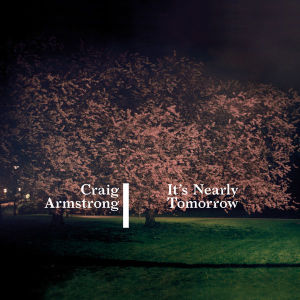 Craig Armstrong's third solo album (and first in ten years), It's Nearly Tomorrow, was released on 13 October last year with little fanfare. Surprising given the composer's acclaim, being well-known as he is for his contributions to the scores for Baz Luhrman's films Romeo and Juliet (1998), Moulin Rouge(2001), and, most recently, The Great Gatsby(2013). Before his move into film scoring and production Armstrong worked with a number of Glasgow bands in the late 1980s – most notably The Big Dish – and his collaborations on this new album reflect his deep connections with the city's music scene. He himself argues it is a "Glaswegian record" (The Herald, 5 November 2014) and the record features a number of Glasgow-based vocalists, including Paul Buchanan, Jerry Burns, Katie O'Halloran, and James Grant.
Like Armstrong's previous solo work, the new album is split almost equally between instrumental compositions and those with vocals. In addition to the Glaswegian musicians mentioned, the album also features a track with Brett Anderson from Suede and one with Finnish musician Vladislav Delay. Whilst he is best known for his instrumentals, and in particular his string arrangements – in addition to his film scores he has contributed to albums by Madonna and Massive Attack, amongst many others – it is also these compositions on It's Nearly Tomorrow which are the least satisfying. Certainly, there are sweeping strings aplenty, punctuated now and again by trip-hop beats in the aforementioned Massive Attack stylee, but while these tracks may work as incidental music, they don't always make for a sustained listening experience. In contrast, it is the album's songs, and particularly those sung by Buchanan, Burns and O'Halloran, which are the stand-out tracks. O'Halloran brings a fresh and most melancholic interpretation to James Grant's 'Strange Kind of Love' – an underrated song from Love and Money's album of the same name. Grant makes one appearance on the album singing a duet with Jerry Burns on 'Powder', an aching ballad of love (or the lack of it), where the couple wish they could turn the clock back on their relationship. Burns in particular brings a rawness and vulnerability to her vocal. In a similar mode Brett Anderson sings about an all-consuming jadedness on 'Crash' (a song which wouldn't sound out of place on a Suede album). However, it is Paul Buchanan who, on two tracks, twists the fragility/intensity button on his vocal performance up to eleven. The hurt he is feeling on 'It's Not Alright' is quite palpable.
At times Armstrong can tread a fine line between mawkishness and kick-in-the guts heartbreak. Fortunately, his choice of vocal collaborators on this album helps to keep his work on the right side of this divide. In its brooding melancholy It's Nearly Tomorrow makes for one of those albums that demands late night listening, possibly with drink having being drunk, and most definitely in response to personal heartbreak.